sour
spirits, sugar, lemon juice (and sometimes egg white and/or a splash of carbonated water)
The Sour is a tricky, but important, one. It was a de facto drink category by the 1850s, but what that actually meant varied a lot. Sometimes the Sour seemed to be an adaptation of punch to the smaller, single-serving template of the American bar, difficult to distinguish from the Fix. Other times the Sour seemed to just be a Sling "made sour" with just a touch of citrus juice. Or it could be something inbetween. Regardless, over the years the Sour led to the Daisy and citrus-oriented cocktails like the Jack Rose and Clover Club. The main Sour that has essentially survived intact to this day is the Whiskey Sour, but the New York Sour has also seen revival.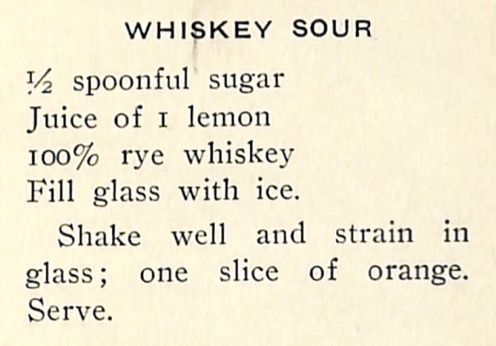 The pictured recipe is from Jack Grohusko's 1908 book, and it's a tart one. A more typical Whiskey Sour by today's standards would be along these lines:
Whiskey Sour
Prepare a cocktail glass
Combine in a shaker:
1 bar spoon superfine sugar
3/4 oz lemon juice
2 oz straight rye or bourbon
Shake with ice and strain into the prepared glass
Garnish with an orange slice.
For a New York Sour, float a little dry red wine on top.
Oxford Companion to Spirits and Cocktails, p. 657–8; barware icons courtesy of Haus Alpenz