Cocktail (or Cock-Tail)
spirits (most commonly a genever, rye whiskey or brandy), sugar, water and bitters
A "bittered sling" that emerged at the outset of early 19th Century as a hangover cure, delivering a stiff-but-palatable hair-of-the-dog with "medicine" (the bitters). Ubiquitous by the 1830s. See also Old Fashioned.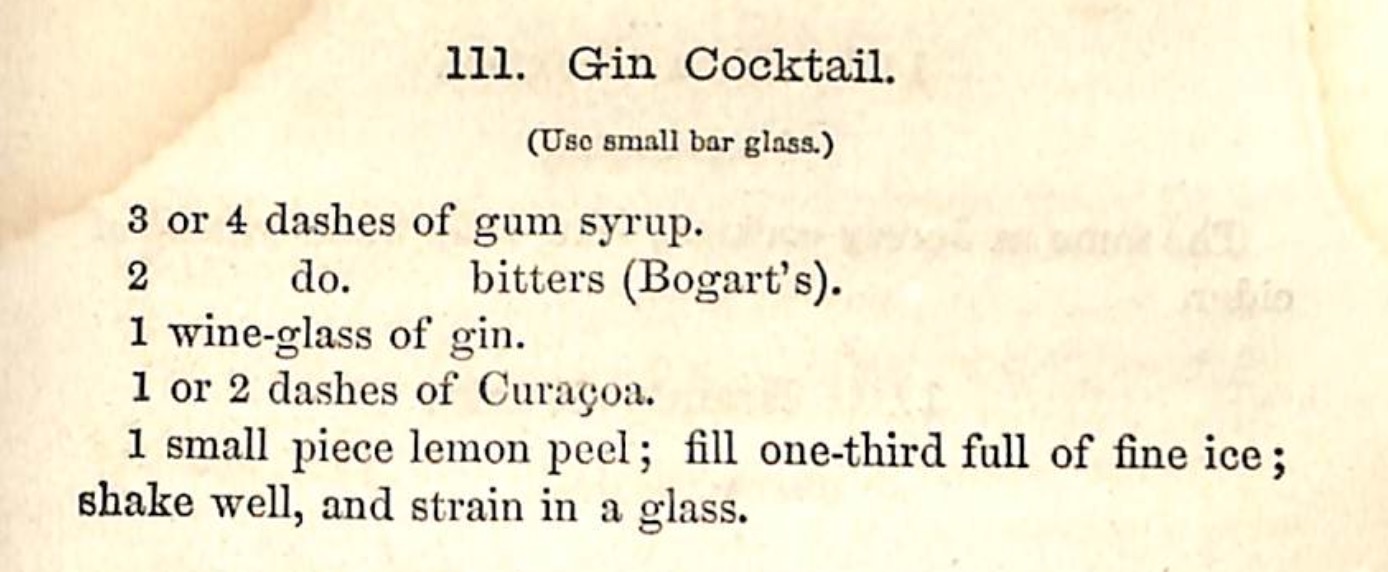 Jerry Thomas wrote The "Cocktail" is a modern invention, and is generally used on fishing and other sporting parties, although some patients insist that it is good in the morning as a tonic.
By his time in the mid-19th Century, the cocktail had evolved a bit, and it was now a drink shaken or stirred with ice and strained into a glass—often stemware, to be more elegant. His Gin Cocktail recipe (to be made with pot still genever) is displayed, above, but he supplied essentially identical recipes substituting Brandy or Whiskey. The (mildly updated) procedure:
Cocktail
Combine in a mixing glass:
1–2 bar spoons gum syrup or simple syrup
1–2 dashes aromatic bitters
2 oz pot still genever, straight rye or bourbon
Stir with ice and strain into a cocktail glass.
Garnish with a lemon twist
Meanwhile, bartenders like Jerry Thomas were already experimenting with making the Cocktail urbane. In 1862, Thomas was already including a dash or two orange curaçao in some of his Cocktails, and distinguishing between a basic Cocktail and a Fancy Cocktail (nicer glass, rimmed with lemon juice). Soon, we would see the Improved Cocktail, with more ingredients. Meanwhile, Joe Santini in New Orleans had already designed the fanciest Cocktail ever: the Crusta.
Oxford Companion to Spirits and Cocktails, p. 163–4; barware icons courtesy of Haus Alpenz