cooler
spirits, citrus peel, ice, carbonated water or ginger ale (and sometimes other things)
An influential, but vague class of American drink close to the Highball, less sweet and less sour than a Collins, and always featuring carbonated water or ginger ale. The intent, at least, is clear.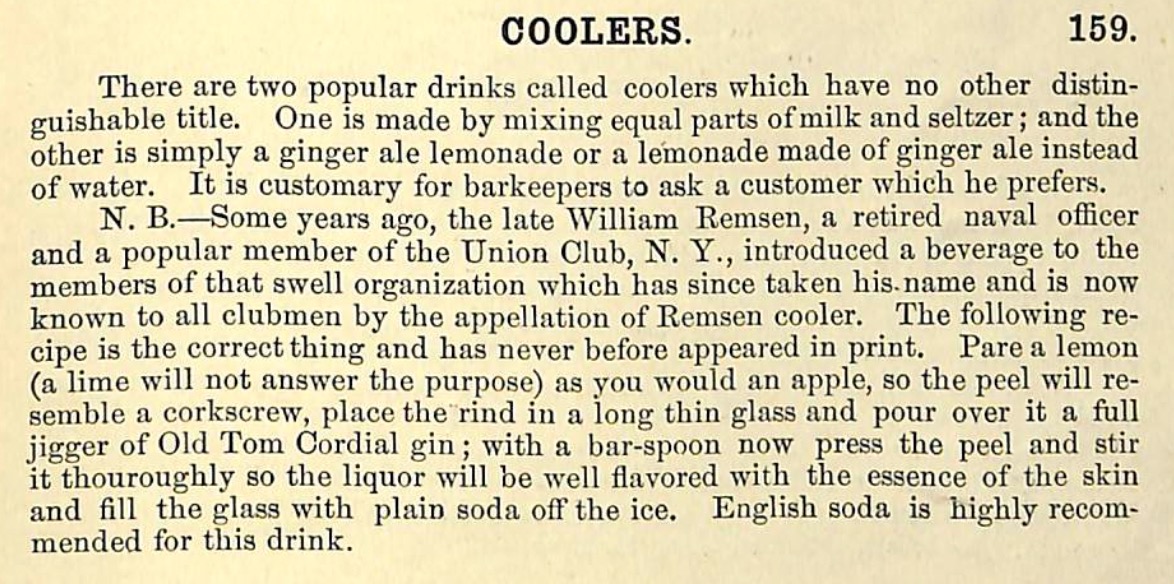 The above quote, from Bill Boothby's "American Bartender", c. 1900, exemplifies the problem with the cooler: there are dozens, perhaps hundreds of different recipes for coolers, but there's also nothing clearly distinctive about them. Many don't even include alcohol. Perhaps the cooler is as much the metaphorical spirit of the thing: any refreshing (and cooling) drink, but falling well short of a (freezing cold) frappé? The Remsen Cooler was not the first cooler, and it was far from the last, but it was one of the better known, despite (or because of) it being indistinct from a Highball.
Remsen Cooler
Build in a bar glass:
1 spiral lemon peel
2 oz old tom gin
Stir and press upon the peel to extract the essential oils of the peel into the gin.
Fill with chilled seltzer or club soda.
Oxford Companion to Spirits and Cocktails, p. 193–4; barware icons courtesy of Haus Alpenz